"Rela Qua" is a total beauty salon that mainly concentrates on applying eye makeup.
We are located in residential areas of Zama City,Soubudai-Mae Station and Hiratsuka City, Toukaidaigaku-Mae Station. Our Primary customer base is office workers or middle-aged housewives wholive in the local neighborhood. Our salon'satmosphere is very comfortable while providing privacy. The name "Rela Qua" is derived from an English and German translation meaning "Relaxation Treatment". While feeling relaxed, we apply eye makeup to resolves skin and makeup troubles for the individual customer.



All designs are created through customer's requests and professional counseling. We strive to provide100% service satisfaction to all of our customers.


We are located in local residential areas accessible for all ages. For more than 10years we have been in business providing the feel of a private salon.


We frequently hear the same comments from first-time costumers that they didn't notice the salon was located here. Customers who tend to have questions or worries about our services, e.g. Semi-permnent cosmetic, were introduced by regular costumers.

We support the mother who wants to maintain her beauty and the family who hope you preserve your beauty. Gift certificates are also available to experience a relax and refresh treatment together with someone precious such as close friend, mother, daughter or couple.

At Rela Qua, we provide professional counseling and recommendations to embody your ideal desires. We understand all women are affected differently from life changes such as environment, employment, marriage and parenting. Before my facial treatments, my eyebrows were half the length, my skin was incredibly dry and I had numerous molls. I understand that solving even the smallest skin problem will make you feel happier and more confident. Please feel free to read more customersユ experiences in our blog. We are happy if we can assist you in taking the next step forward. After I graduated from junior college, I was employed as an interior designer for a major housing company. As my career progressed, I became very interested in beauty and started to consider changing my career as a beautician. After I attended numerous beauty schools, I opened the first Rela Qua in 2002. We gradually expand our services to include facial, aroma body care and Semi-permnent cosmetic. As to maintain customer support, our salon continues to respond to customersユ detailed requests. Rela Qua established "Rela Qua Semi-permnent cosmetic School" in March 2007. Rela Qua in located at two locations: Soubudai-mae Station and Toukaidaigaku-mae Station. We promote to make an alliance with other hair salons.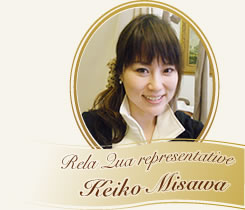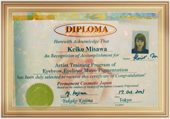 Odakyu line Sobudai-mae Station 3-42-45 Soubudai-mae, Zama City"Three-F" Convenient Store Bldg./ 2F
Coin Parking is available at this location.
We validate parking.